A YEAR ON CORNHILLS FARM
JANUARY can bring snow, all the cattle are inside and if the weather is really awful the sheep can be housed inside as well.
FEBRUARY snow drops in the orchard, long dark nights and lots of indoor work to complete.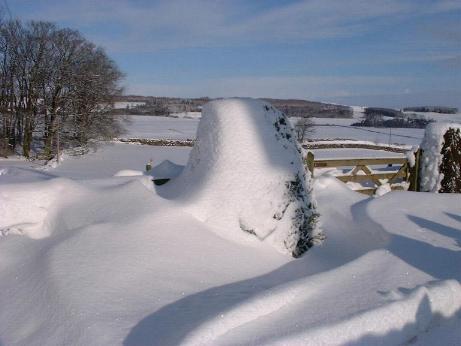 MARCH the suffolk and Texels have their lambs. They are lambed in the sheep shed and watched on a camera over night. The shrubbery is alive with daffodils.
APRIL the main sheep flock is lambed, we work 24 hours a day looking after the lambing ewes. This is a very busy time of year, all the fertilizer is applied to the fields.
MAY the cows are turned out into the fields and the spring calves are born.
JUNE the sheep are sheared and the silage is made. The roses on the front of the house start flowering and the mock orange in the shubbery gives a wonderful perfume.
SILAGE MAKING
SHEARING
MOCK ORANGE
JULY the hay is made and the first lambs are sold.
AUGUST the straw is brought home from near by arable farms. In August 2003 some of the Morgan car convention stayed.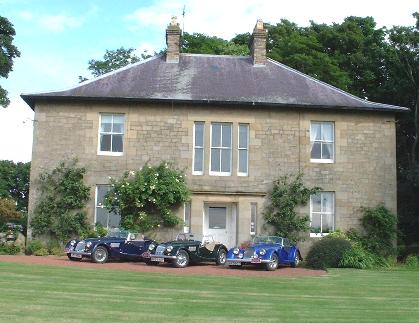 SEPTEMBER the autumn calving begins and we sell our Suffolk tups off the farm, the Texel tups are sold through Hexham mart.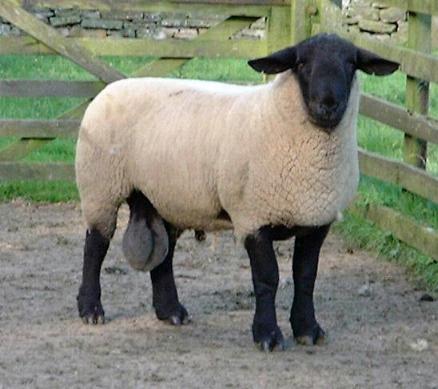 OCTOBER the autumn born calves are tagged(yellow tags are put into the calves ears.) Replacement cows are bought.
NOVEMBER the cows and calves come back in for the winter.
DECEMBER the weather is much colder, the animals are all inside. We are getting ready for Christmas.